History and cultural heritage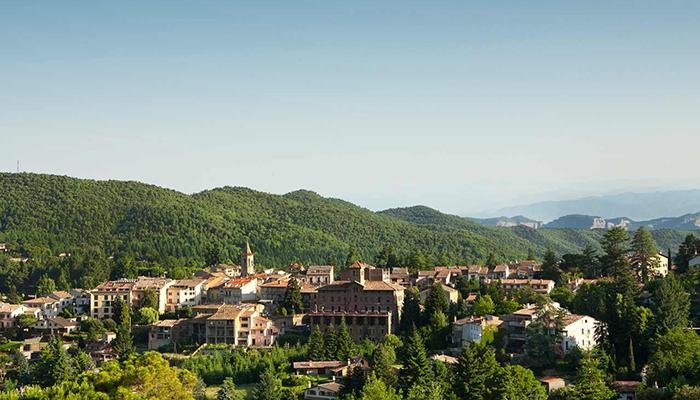 Viladrau is made up of a small and compact historical centre and a plethora of towers and chalets with landscaped gardens, many of which date back to the beginning of the 20th century.
Visitors to the church of Sant Martí (dedicated to the patron saint of the village) can admire a central nave that formed part of the original church, consecrated in 1082, a pair of matching arches to one side of the atrium from Roman times, and a baroque façade constructed in the year 1769 with the image of Sant Martí.
The village's religious heritage also includes the chapel of Pietat, from the 16th century; the sanctuary of Sant Segimon, at 1230 m.a.s.l. with successive constructions dating back to between 1290 and 1782; and the l'Erola hermitage, set amount century-old chestnut trees on the Sant Segimon route.
Civil architectural heritage is magnificently represented by the fortified mansions of Espinzella and La Sala (converted into Domus in the 12th and 14th centuries respectively), specifically La Sala, declared of national cultural interest in 1949, and by a series of farmhouses of recognised value, of which records date back to 1340, which still exist today: Mas Miquel, Vilarmau, Mas el Martí, La Vila, L'Aremany, El Pujol de Muntanya, Rusquelles, Mas Molins, Masvidal, Can Bosch, Can Gat and la Noguera.
Furthermore, mentioned should also be made of the stately homes designed by renowned modernist architects such as Can Torra, by Puig i Cadafalch (who also renovated the Ca l'Herbolari building), La Soleia, Can Soliguer and Can Isamat, by Duran y Reynals, and the Riera House by Coderch de Setmenat.
Viladrau, home to writers and poets
Jaume Bofill i Mates (1878-1933), the great poet known as Guerau de Liost, and his cousin Jaume Bofill i Ferro (1891-1968), the renowned literary critic, were able to leave their cultural mark at the beginning of the 20th century, meaning that the area between Rusquelles and Ca l'Herbolari in Viladrau became a focal point for literary activities, with an emphasis on the names of Josep Carner, Felip Graugés, Carles Riba and Marià Manent.
Later came the work of Ernest Torra and Enric Larreula, and currently one of the most prominent young writers of new narrative is Jordi Cabré i Trias, author of a work focused on the bloody acts of witchcraft in Viladrau, La Pregària del Diable.